23 OCTOBER 1976
A Dark Day for Melbourne, Australia
---
A digression. I normally greatly enjoy sharing the eclipse experience with the local inhabitants of a region who are lucky enough to have such an event fall right in their own back yards. No less so was my expectation for the October 23, 1976 eclipse, which I successfully observed from the summit of Mt. Delegate in Australia. The path of totality passed directly over Melbourne, a city of no small size and should have afforded the opportunity for millions to enjoy basking in the lunar shadow. It is very sad to say, however, it was not so. Not, as some may come to a premature conclusion, due to weather. Oh, no. Rather due to the reign of mis-informed terror foisted upon the populace by the the Australian Optometric Association proclaiming with great authority that "there is NO safe way to watch the eclipse" and "You WILL go blind!". For days before this celestial event the TV's newspapers, kiosks, and radios of Australia blared with incredulous warnings. No effort was made to educate the masses who were to be blessed with totality as to how to watch the eclipse safely, and no distinction was drawn between totality and partial phases. The theme of the bureaucratic agencies "in charge" was "instill fear" rather than "embue with knowledge". To this day I proclaim SHAME ON YOU, for you robbed literally millions of an opportunity to witness one of natures grandest spectacles. Continually echoed was the mantra "THE ONLY SAFE WAY TO SEE THE ECLIPSE IS ON TV". This from the heart of the path of totality! Such was the fright which was induced in the populous that even those that did watch on TV were so brainwashed that this cartoon appeared in one newspaper: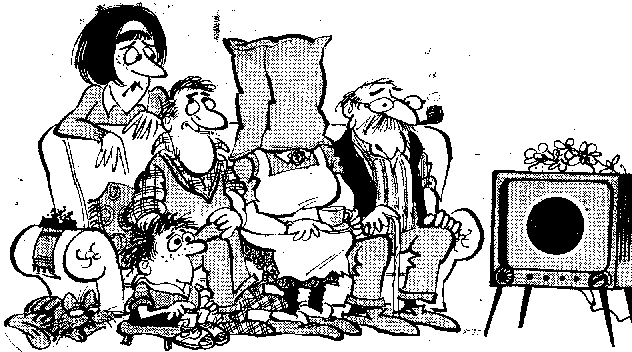 Should you think I exaggerate I have extracted a representative suite of articles from a collection I have of several hundred which appeared in prominent and respected Australian newspapers regarding the eclipse. What I could not reproduce (as my scanner just handles 8x11 paper) were the huge posters hung on every street corner and and full-sized dual page flyers in those newspapers which proclaimed boldly in a dozen languages:
WARNING!
SOLAR ECLIPSE TODAY
NEVER look directly at the Sun at any time. You may damage your eyes.
A TOTAL ECLIPSE OF THE SUN will occur today, Saturday, October 23, 1976, between 3:30pm and 5:45PM.
DO NOT LOOK AT THE SUN because you may damage your eyes. It is DANGEROUS to look at the sun through any kind of filter e.g. sunglasses, smoked glasses, welding glasses, exposed film.
It is VERY DANGEROUS to look at the sun through a telescope, binoculars, a camera lens, or viewfinder.
WATCH THE ECLIPSE ON TELEVISION - this is the SAFE way to see the eclipse.

Prepared by: Community Services Centre. 356 Collins Street, Melbourne 3000.
Authorized by: Solar Eclipse Committee, 1976, Premiers Department, Melbourne Australia.

Due to limited disk space I cannot serve up the literally hundreds of egregious examples of mis-truths designed to terrorize. But here are a few representative examples:



*Sure, people were too scared to go outside and watch it.

Now, what's all this talk been about Ayer's Rock on the Solar Eclipse e-mail exploder?