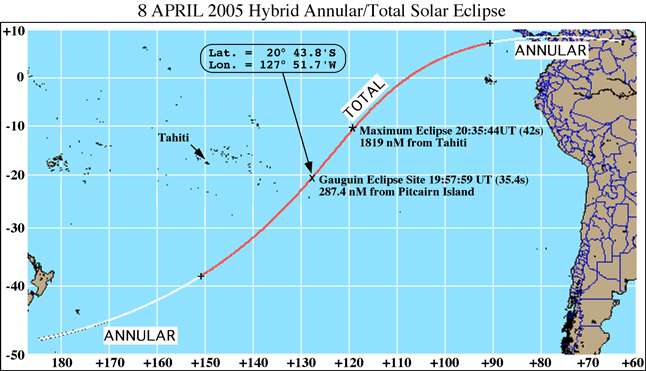 The total phase of the annular/total solar eclipse of 8 April 2005 will not be visible from land anywhere along the path of the central eclipse. The eclipse begins in annularity at sunrise south of New Zealand at 18:54 UT, and becomes a zero second duration "total" eclipse 13 minutes later 1,190 nautical miles south of Tahiti. At 19:57:59 UT, the center of the umbral shadow will be at 127° 51.7 W longitude, 20° 43.8S latitude - the planned location of the MS Paul Gauguin, where totality will be enjoyed for 35.4s with the eclipsed Sun 61° above the horizon.

CLICK HERE for a summary of the imaging programming we are planning.


The local centerline circumstances of TSE 2005 along are represented on the above graphs (by time and by longitude). Negative duration and shadow width indicates when/where the central eclipse will be annular. The eclipse will be total as seen on centerline for regions/times above the red dashed lines.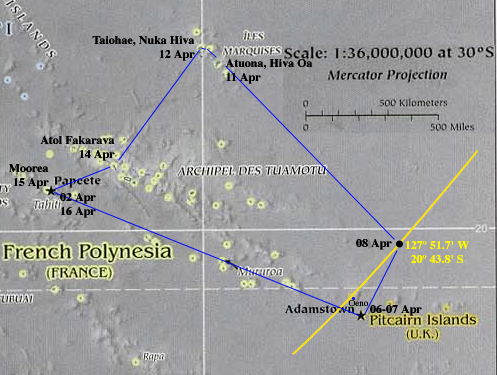 The planed route of the M/S Paul Gauguin (blue) shown with respect to a portion of the centerline of the path of totality (yellow) with the confluence of the two on 08 April 2005. Oeno Island is the closest the path of totality will approach land, but for those seeking a point on land to view totality - there isn't one! Oeno Atoll/Island (aka on some maps "Sand" or "Sandy Island"; one of two areas of "land" within the confines of the atoll) is *NOT* in the path of totality:




Oeno Island
(Where "dry land" shifts with the wind and tide)




Click HERE for more detailed
Earth-orbital imagery of Oeno Island.
Oeno Island -- "A miss is as good as a mile" on 08 April 2005 - literally in this case. (But come back on 02 July 2019 and you will enjoy 2m54s of totality!)



N.B.: The Pitcairn Islands Philatelic Bureau will issue a special 3-stamp set and first day cover commemorating the total eclipse near Oeno.


M/S PAUL GAUGUIN: POINT-TO-POINT GREAT CIRCLE ROUTE

LOCATION ARRIVE DEPART LONGITUDE LATITUDE DISTANCE COURSE Time*
Papeete, Tahiti -- -- 02d 22h 149 32.0W 17 32.0S -.-- -.-- -.--


Adamstown, Pitcairn 06d 08h 06d 18h 130 06.0W 25 04.0S

1176.56 115.83 65.36




Eclipse Site* TDB TBD 127 51.7W 20 43.8S 287.42 25.91 15.97




Atouana, Hiva Oa 11d 08h 11d 18h 139 02.0W 09 48.0S 919.06 313.61 51.06




Talohae, Nuka Hiva 12d 08h 11d 18h 140 12.0S 08 49.0S 91.35 310.65 5.08




Atol Fakarava

14d 07h 14d 13h 145 14.0W 16 05.0S 524.96 213.73 29.16




Moorea, Tahiti 15d 08h 15d 17h 149 45.7W 17 29.4S 273.86 251.48 15.21




Papeete, Tahiti

15d 21h -- -- 149 32.0W 17 32.0S 13.35 101.22 0.74





Distances are in Nautical Miles based on WGS84/NAD83/GRS80




* Time in Hours at CRUISE for 18 knots (excludes port operations)




ECLIPSE CIRCUMSTANCES FOR M/S PAUL GAUGUIN



Longitude = 127 51.7W, Latitude = 20 43.8S




Duration = 35.4s, Magnitude @ Mid-Eclipse= 1.0032




Lunar/Solar Angular Diameter @ Mid-Eclipse = 1.0065





EVENT UT(H:M:S) ALT AZM PA VA




Contact I 18:30:00.1 +49 50 224 003




Contact II 19:57:41.4 +60 18 042 153




Mid-Eclipse 19:57:59.1 +61 18 --- ---




Contact III 19:58:16.9 +61 18 224 333




Contact IV 21:30:34.1 +58 332 043 108




Return to: Glenn Schneider's Home Page