• ISS Imagery of OENO ISLAND ATOLL (Pitcairn Islands Group)
When the umbral shadow touches down on the Earth, giving rise to the 08 April 2005 solar eclipse it will sweep only over the waters of the Pacific Ocean, finding no landfall anywhere along its long narrow track. The closest it will come is at a point where the southern limit of the path of totality passes appx. 2 km north of the uninhabited OENO Island (120 km northwest of Pitcairn Island). Oeno, a classic Pacific atoll, is part of the Pitcarn Islands (UK). It is occasionally visited by boat the Pitcarners, but is otherwise unoccupied. Oeno fails as a choice for umbraphiles who wish to locate themselves within the Moon's umbral shadow. However, it's northern most reaches might interest those interested in internal limb contact phenomenon. I.e., Baily's beads and the dynamical diamond ring should be spectacular.
---
Oeno Island Atoll - Map Width = 3.4 Nautical Miles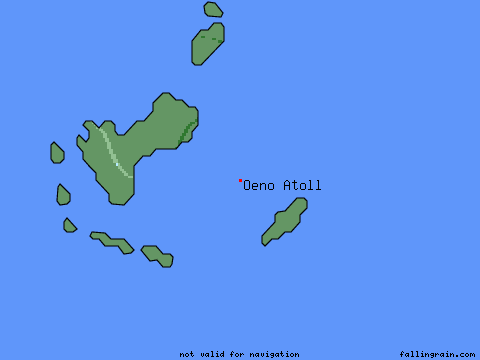 Latitude = -23.9333°, Longitude = -130.7333° (red mark)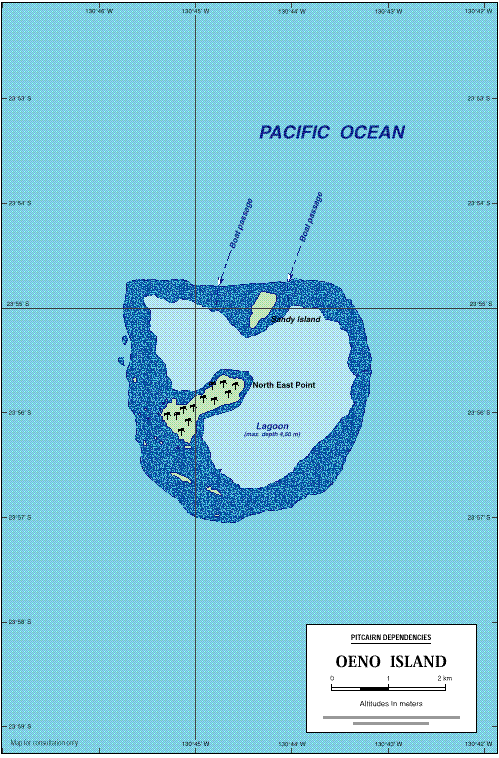 This map by Jean-Pierre Langer Principality of Monaco based upon Admiralty charts.
---

Here, you will find four images of Oeno Island (now forever in the lore of contemporary eclipse chasing) taken from the International Space Station and, for the most-part, unobscured by cloud. Click on any of the in-line low resolution images to view a corresponding high resolution image. These images are UNRECTIFIED, and are of arbitrary image orientations. A proper geometrical image transformation may be accomplished with the aid of a "footprint calculator" to determine the rectified geographical co-ordinates of specific topographic features (i.e., those areas possibly suitable as observing sites for limb phenomenon), such as the downloadable one available HERE* (as an Excel spreadsheet).

• Images courtesy of Earth Sciences and Image Analysis Laboratory, NASA Johnson Space Center

* Low Oblique Space Photo Footprint Calculator courtesy and © 2002 of the Lockheed Martin Corporation.

Glenn Schneider, Steward Observatory, University of Arizona, 1 April 2003
---

Note: Some "maps" of Pitcairn region schematically indicate "Sand" or "Sandy" Island to the north-east of Oeno. Be forewarned, while it is a separate island, is fully within the atoll.

"Oeno Atoll (23° 56' S, 130° 44' W), about 65 miles NW of Pitcairn Island, is a low and dangerous atoll, and the shallow lagoon is completely surrounded by the coral reef. Near the center of the atoll there is a large island covered with trees; Sandy Island lies in the center of the N part of the reef. In 1978, the N ends of both islets were being eroded, and the S end of Sandy Island and the E extremity of the center islet were extending. Two towers, each 24m high and about 1 mile apart, stand on the reef."

---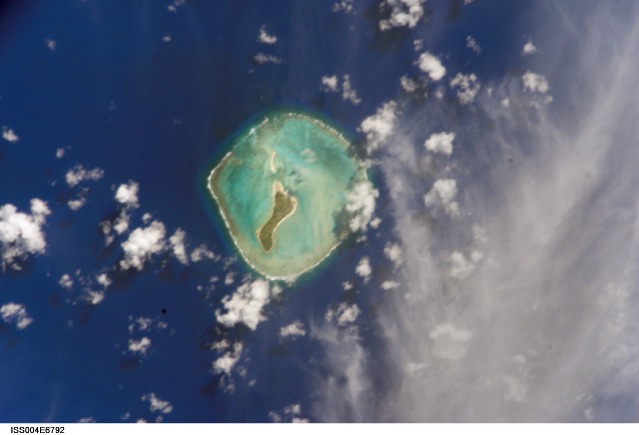 Identification
Mission :ISS004 Roll :EFrame: 6792 Mission ID on the Film or image: ISS004
Country or Geographic Name: PITCAIRN ISLANDS
Features :OENO ISLAND, REEFS
Center Point Latitude :-24.0 Center Point Longitude :-130.5 (Negative numbers indicate south for latitude and west for longitude)
Camera
Camera Tilt :38
Camera Focal Length: 800mm
Camera :E4: Kodak DCS760C Electronic Still Camera
Film :3060E : 3060 x 2036 pixel CCD, RGBG array.
Quality
Film Exposure :
Percentage of Cloud Cover :10 (0-10)
Nadir
Date :20020123 (YYYYMMDD) GMT Time: 174924 (HHMMSS)
Nadir Point Latitude: -22.1 , Longitude: -132.6 (Negative numbers indicate south for latitude and west for longitude)
Nadir to Photo Center Direction: Southeast
Sun Azimuth: 96 (Clockwise angle in degrees from north to the sun measured at the nadir point)
Spacecraft Altitude: 216 nautical miles (400 km)
Sun Elevation Angle: 45 (Angle in degrees between the horizon and the sun, measured at the nadir point)
Orbit Number: 2152
---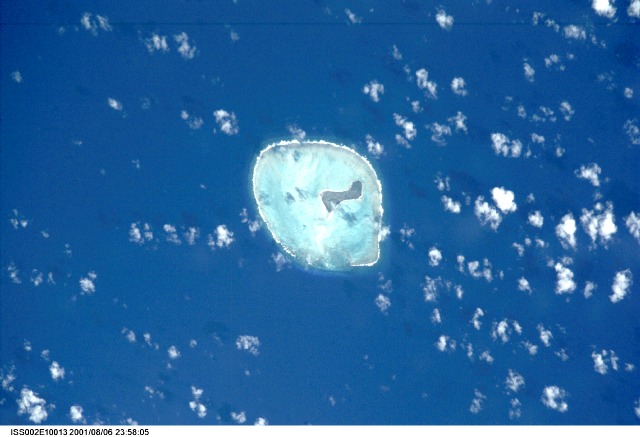 Identification
Mission :ISS002 Roll :EFrame: 10013 Mission ID on the Film or image: ISS002
Country or Geographic Name: PITCAIRN ISLANDS
Features :OENO ISLAND
Center Point Latitude :-24.0 Center Point Longitude :-130.5 (Negative numbers indicate south for latitude and west for longitude)

Camera
Camera Tilt :26
Camera Focal Length: 800mm
Camera :E2: Kodak DCS460 Electronic Still Camera
Film :3060E : 3060 x 2036 pixel CCD, RGBG array.

Quality
Film Exposure :
Percentage of Cloud Cover :10 (0-10)

Nadir
Date :20010806 (YYYYMMDD) GMT Time: 231005 (HHMMSS)
Nadir Point Latitude: -22.5 , Longitude: -129.7 (Negative numbers indicate south for latitude and west for longitude)
Nadir to Photo Center Direction: Southwest
Sun Azimuth: 314 (Clockwise angle in degrees from north to the sun measured at the nadir point)
Spacecraft Altitude: 210 nautical miles (389 km)
Sun Elevation Angle: 37 (Angle in degrees between the horizon and the sun, measured at the nadir point)
Orbit Number: 3502
---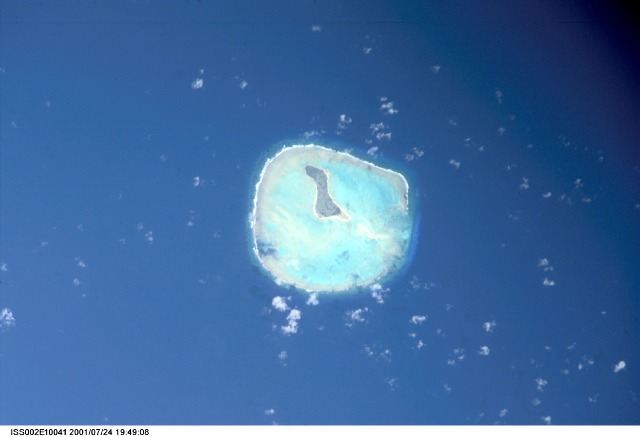 Identification
Mission :ISS002 Roll :EFrame: 10041 Mission ID on the Film or image: ISS002
Country or Geographic Name: PITCAIRN ISLANDS
Features :OENO ISLAND
Center Point Latitude :-24.0 Center Point Longitude :-130.5 (Negative numbers indicate south for latitude and west for longitude)

Camera
Camera Tilt :27
Camera Focal Length: 800mm
Camera :E2: Kodak DCS460 Electronic Still Camera
Film :3060E : 3060 x 2036 pixel CCD, RGBG array.

Quality
Film Exposure :
Percentage of Cloud Cover :10 (0-10)

Nadir
Date :20010724 (YYYYMMDD) GMT Time: 194921 (HHMMSS)
Nadir Point Latitude: -24.0 , Longitude: -128.7 (Negative numbers indicate south for latitude and west for longitude)
Nadir to Photo Center Direction: West
Sun Azimuth: 31 (Clockwise angle in degrees from north to the sun measured at the nadir point)
Spacecraft Altitude: 211 nautical miles (391 km)
Sun Elevation Angle: 40 (Angle in degrees between the horizon and the sun, measured at the nadir point)
Orbit Number: 3297

---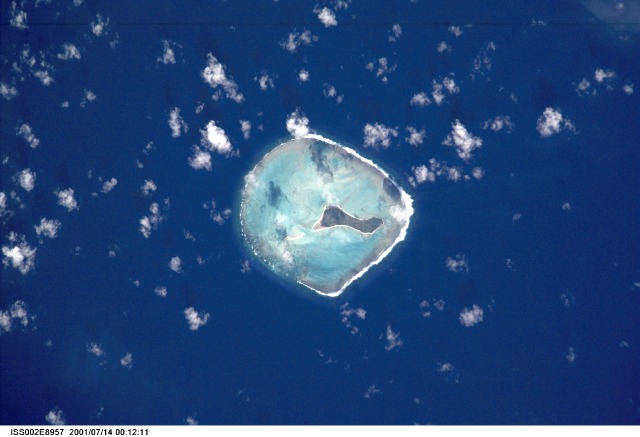 Identification
Mission :ISS002 Roll :EFrame: 8957 Mission ID on the Film or image: ISS002
Country or Geographic Name: PITCAIRN ISLANDS
Features :OENO ISLAND
Center Point Latitude :-24.0 Center Point Longitude :-130.5 (Negative numbers indicate south for latitude and west for longitude)

Camera
Camera Tilt :6
Camera Focal Length: 800mm
Camera :E2: Kodak DCS460 Electronic Still Camera
Film :3060E : 3060 x 2036 pixel CCD, RGBG array.

Quality
Film Exposure :
Percentage of Cloud Cover :10 (0-10)

Nadir
Date :20010713 (YYYYMMDD) GMT Time: 232711 (HHMMSS)
Nadir Point Latitude: -23.7 , Longitude: -130.3 (Negative numbers indicate south for latitude and west for longitude)
Nadir to Photo Center Direction: Southwest
Sun Azimuth: 316 (Clockwise angle in degrees from north to the sun measured at the nadir point)
Spacecraft Altitude: 202 nautical miles (374 km)
Sun Elevation Angle: 30 (Angle in degrees between the horizon and the sun, measured at the nadir point)
Orbit Number: 3128